Passive flood barriers that are the new standard for flood mitigation.
The revolutionary FloodBreak® automatic flood barrier is changing how flood mitigation projects are designed.
FloodBreak will protect virtually any vulnerable opening, 24/7, without the need for human intervention or power.
Permanently installed and nearly invisible, FloodBreak flood barriers sit beneath entrances, roadways and other openings ready to deploy and prevent flood damage.
FloodBreak designs flood control products to protect virtually any vulnerable opening.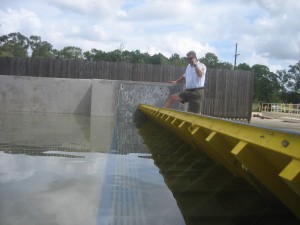 Custom designed to fit your specifications, the FloodBreak passive flood barrier system is the better way to reduce flood damage risk:
Passive flood mitigation measures preferred by FEMA
Flood barriers that automatically deploy without human intervention or power
Flood barriers that remain hidden, blended into the surrounding architecture
Long service life with minimal maintenance
FloodBreak automatic flood barriers have been protecting vulnerable floodpaths for public institutions and private sector businesses since 2002. From pedestrian gates and vehicle gates to roadway gates that raise levees to vent shaft systems that protect underground rooms, tunnels and subways, FloodBreak has a permanent flood control solution to meet your project needs.
No longer do you need to allocate resources – people and money – to train and schedule personnel or find and maintain stored flood barriers.
See FloodBreak  in action – Major Deployments
Learn about FloodBreak Projects