Columbus Regional Hospital is now protected from future flooding thanks to hazard mitigation and a floodwall with 15 FloodBreak® passive floodgates.
On June 7, 2008, Haw Creek, a small tributary, came out of its banks due to flash flooding in the northern part of the floodway. The unprecedented flooding quickly flooded Columbus Regional Hospital, Cummins Diesel, other businesses and numerous residential homes in the Haw Creek Flood Corridor.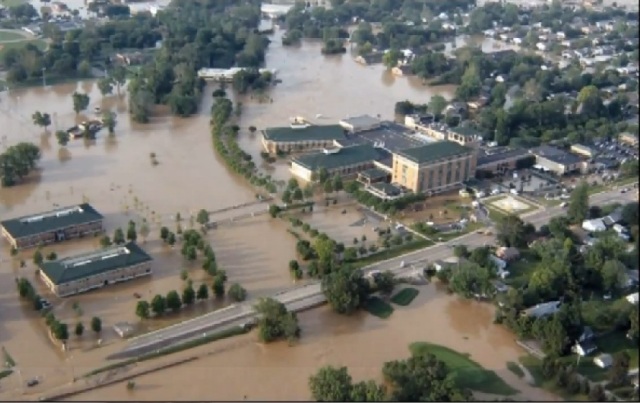 Columbus Regional Hospital was forced to evacuate 157 patients as flooding knocked out primary and emergency electrical systems, boilers, chillers, and transport system.
A no-adverse-impact flood risk management approach was adopted by the city of Columbus, IN in response to catastrophic flooding in 2008. Detailed hydrologic and hydraulic modeling of the watershed was developed along with a plan for permanent mitigation of future flood damage both for facilities like Columbus Regional and the overall flood risk areas in the Haw Creek flooding corridor.
As a critical lifeline entity, Columbus Regional was allowed to undertake floodproofing measures that would not adversely impact other properties.
A 2,400 foot floodwall was built two feet higher than the 100 year flood elevation and included 15 passive FloodBreak floodgates at all entry points, which allow unimpeded access by vehicles and pedestrians during dry times, but automatically deploy without human intervention or power if flooding occurs.
Read why the Columbus Regional Hospital flood mitigation was chosen as a FEMA mitigation best practices story.