FloodBreak® Automatic Floodgates – Revolutionary Flood Control
FloodBreak was invented in Houston, TX in the aftermath of Tropical Storm Allison. The flood damage from Allison proved that traditional flood control measures, no matter how well-built, cannot reliably protect against catastrophic flooding.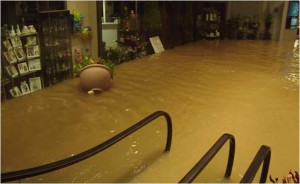 With Allison and and subsequent hurricanes Katrina, Rita and Ike we saw the failures of active flood control measures. And we've seen how passive flood mitigation has protected people and property.  FEMA is right — active mitigation measures fail.  Regularly. 
FloodBreak passive flood barriers represent a revolutionary change in traditional flood control measures.
Lou Waters explain why he invented the revolutionary FloodBreak AutoGate flood barrier.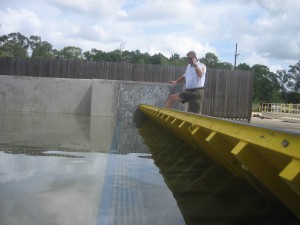 FloodBreak was founded on a fundamental yet very simple concept — using the power of rising water against itself to automatically protect structures from flood damage caused by floodwaters. Without human intervention. Without power.  FEMA in its BCA Glossary clearly states its preference for passive flood mitigation measures.
There has never been flood damage behind a FloodBreak-protected entrance. 
Historically, the only methods for protecting building entrances, driveway ramps, vent gratings, and other vulnerable floodpaths have been active flood mitigation measures that require power systems (which fail during floods) or human intervention (which puts people and systems at risk of error). Some flood control companies have been in the business for fifty years. Some joined the market more recently and make essentially the same active flood control barriers.
FloodBreak is different – it is permanent, passive flood protection.  The flood barrier sits beneath the ground at vulnerable entrances, ready to deploy 24/7, without dependence on human intervention or power, so that you don't have to worry about unexpected flash floods, storm surge or other flood events. 
There have been over a dozen documented cases of FloodBreak flood barrier deployments – many on weekends or in the middle of the night – not to mention when the FloodBreak flood control system deploys automatically, then returns to its hidden position without being seen.
Lower total cost of ownership.
There are flood control products made by reputable vendors which have lower up-front acquisition or initial installation costs, such as swing gates, roll-up dams, and removable flood panels. That is only part of the true cost.  Active flood control products require storage space, set up and break down time, personnel training, monitoring, and, most importantly of all, action in the worst conditions. FloodBreak eliminates those problems and the risk they pose to flood protection.
There is no flood control product available anywhere that matches FloodBreak's low total cost of ownership and 100% passive flood protection.
If you or your client are looking for the best flood mitigation product to protect your facility against that unpredictable, catastrophic, once-in-a-decade (or unfortunately regular) flood event, and need a flood barrier that will deploy no matter what time of day or night, without the need for human intervention or power, then give us a call.

We look forward to working with you on your flood control project in the near future. Contact us