FEMA states that passive mitigation measures are more effective than active mitigation measures. 
Active Mitigation Measures: Requires human intervention [or power] to operate properly and are usually less effective than passive mitigation measures.
Passive Mitigation Measures: Mitigation measures that require no human intervention [or power] to be effective and are usually more effective than active mitigation measures. (Source: FEMA BCA Helpline Glossary)
Flash flooding can happen in minutes after heavy thunderstorms, particularly with small streams or drainage ways. Without sufficient warning time, active measures cannot be implemented, particularly if those panels or logs are in storage. Even if they are close by, the floodwaters can rise more quickly than personnel can close the pathway. And what about safety – will emergency personnel be at risk during a flood event? That was the case when unexpected flooding from Tropical Storm Allison forced personnel to flee before active measures could be deployed.
"The water came so fast it was impossible to secure all of the logs," Garcia said. "As soon as we secured the first log, the water began to rise above it. We tried a second, then a third. By the time we got to the fourth log the water was above my thighs. I knew it was time to head for safety."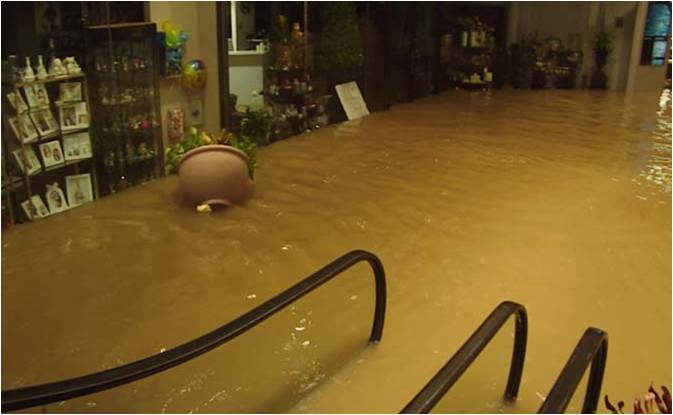 Questions to ask about your floodproofing?
Does your flood control depend on human intervention for deployment?
Will you have sufficient warning time to activate floodproofing components?
Can your flood control system deploy or your emergency team operate without power?
Do you want to shut access to your facility for a flood event that MIGHT happen?
What are your true lifetime costs for ongoing planning, training and storage of flood proofing systems?
Excerpts from FEMA 551 and Technical Bulletins:
Human Intervention – Openings in the barrier will need to be closed prior to a flood event. The barrier will not protect the structure from flooding unless the owner is willing and able to operate all closures (flood barriers) before the floodwaters arrive.
Warning Time – Sufficient warning time must exist to successfully place [active] floodproofing components, such as removable flood shields or gates, if such components are to be included in the floodproofing design. The amount of time necessary to put human intervention floodproofing components in place will depend upon the number of components, their complexity, and the availability of personnel to place them.
Power Failure – A Flood Emergency Operation Plan must ensure that the floodproofing components will operate properly under all conditions, including power failures.
Early Deployment – Safety should always be the first priority. However, manual closing of active flood barriers as a precaution based on reports of possible flooding makes access difficult at critical facilities like hospitals.
Long term mitigation costs – The long-term costs of maintaining the effectiveness of a given mitigation measure… are especially important in determining the true value of a mitigation project.
Annual Maintenance – A barrier requires periodic inspections and maintenance to address any necessary repairs.
Are you sure you're protected? FloodBreak passive flood mitigation barriers provide permanent flood protection, 24/7, without the need for human intervention or power.
Talk to us today to protect your facility.